Autumn 2021 Routes to Work update. Our employability students continue to make excellent progress in the world of work with many having their contracts continued and extended throughout the autumn and winter.
Employability highlights have been Daniel now getting paid work at Altskeith Country House Hotel, Kinlochard, while John has now been offered a part-time job at Waitrose, Milngavie. It has been such a successful year for our employability students with most of them now earning a wage.
John has now been on work placement at Waitrose, Milngavie, for 3 months, as a shop floor assistant. During that time he had the opportunity to apply for a part-time vacancy with the store. After completing an online application and preparing for his interview, he was delighted to hear that he will now be employed with the store from the end of October. It's fantastic news for John; we will continue to support him in his new job as he develops his skills along the way.
Daniel has been busy painting the many sheds at Altskeith Country House Hotel, Kinlochard. We are hoping that the weather keeps dry for him to finish off the painting by the end of the year. He is also very keen to pick up any additional winter maintenance work at the hotel.
Patrick is at Benview Garden Centre near Aberfoyle, one day a week, replenishing pet food supplies as well as carrying out general garden centre tasks. He is delighted that his seasonal contract will now continue over the winter months.
Alex continues his work at Duff Trees, Buchlyvie, carrying out essential, seasonal tree maintenance as well as other various jobs including strimming. Alex hopes to be able to work some additional days over the busy harvest times during the months ahead.
Amanda continues to work one day per week at Altskeith Country House, Kinlochard, in the laundry. She has made great progress ironing and folding napkins and aprons for wedding parties. Feedback from the owners has been really positive, they are especially pleased with her work ethic, often working unsupervised to a very high standard.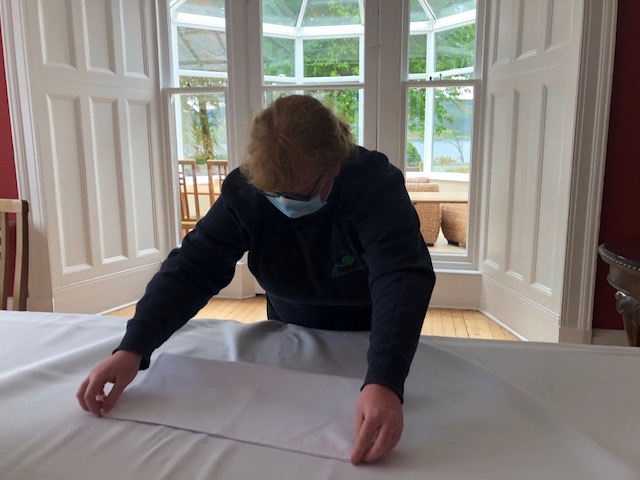 Sam is working every week at Start Up Stirling, and has had his first day of volunteering at Bannockburn House.
Cameron's contract at West Moss-side Farm, one day a week, has now been extended over the winter months. His jobs will be looking after livestock, woodland and garden maintenance as well as other jobs around the farm. He will also continue his seasonal work at Dun Eaglais Lodge, Kippen over the winter months.
Patrick and Daniel will continue to carry out essential trail maintenance each week at The Lodge Forest Visitor Centre, Aberfoyle. They will also be carrying out routine car park checks and developing their customers skills by handing out maps to members of the public and answering any questions they may have.
Many of our other students continue to develop their employability skills in various work placements throughout Stirlingshire. We have further opportunities within hospitality, horticulture and retail that will see more of our students taking their first steps into the world of work – watch this space!
Marjorie continues her work placement at Dreadnought Petrol Station, Callander. She has had her hours extended and is making good progress developing her skills in the shop and garage forecourt without support.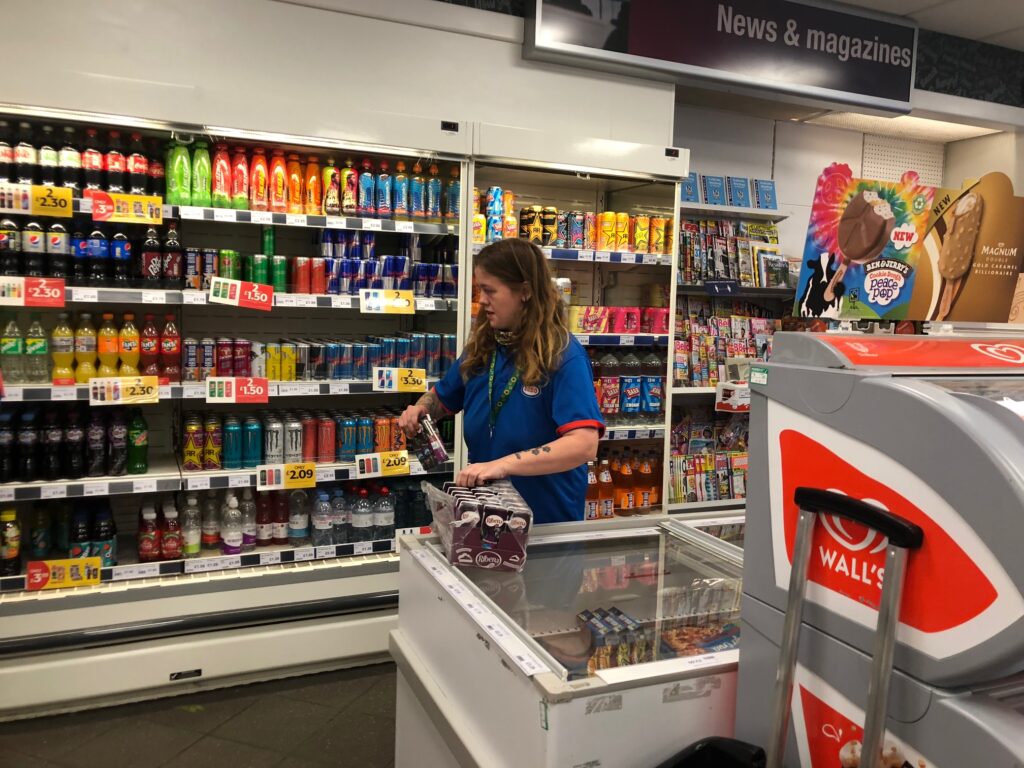 Our employability support manager, Jean Gavin, offers continuing support to both students and work placement providers. She also supports staff and volunteers to ensure we give every student the best opportunity we can in the workplace.
Of course none of this could happen without the ongoing support of businesses both local and Stirling wide, offering our students the chance to develop their skills and reach their aspirations. We very much appreciate all their support. And a specially huge thank-you to all of our employability volunteers in particular, who have supported our students to develop their skills on the job.